Edge Cybersecurity in Automotive
The automotive industry is one of the most severely affected industries in the world when it comes to cybersecurity. According to McKinsey's "
Cybersecurity in automotive: Mastering the challenge
" report, the automotive industry's cybersecurity market is projected to grow to $9.7 billion by 2030, a figure that can easily escalate since remote attacks are increasingly outnumbering physical attacks as of the end of 2021.
The automotive industry could lose up to $1.1 billion for a single cybersecurity attack, and collectively, they could stand to lose up to $24 billion before 2023 ends.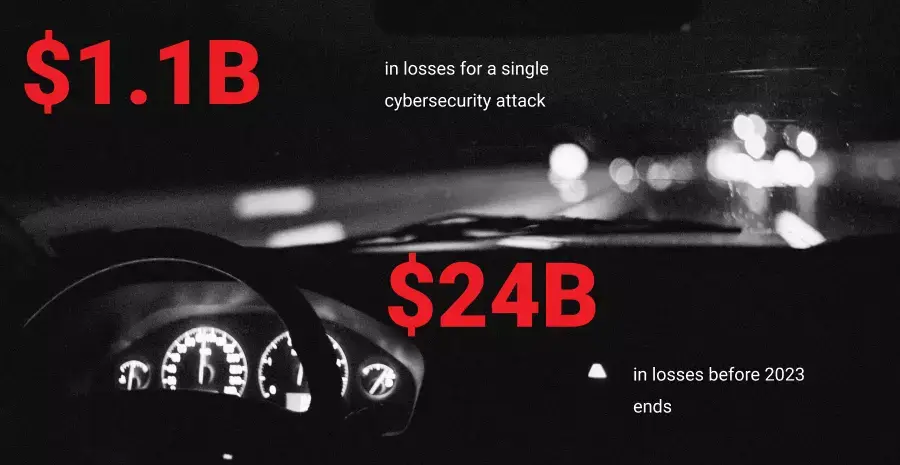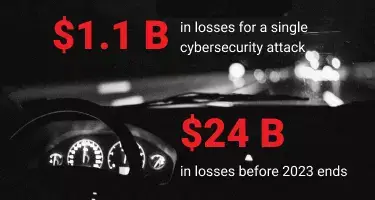 This abundance of complex software code and the increasing complexity of systems in connected and autonomous cars have become the reasons for vulnerable Edge security architecture and created bigger opportunity areas for cyberattacks.
Recent Edge Threats & Vulnerabilities in Automotive
More than 50% of all reported automotive related cybersecurity incidents took place during the past two years alone.
Here are some of the most important incidents that made headlines in 2021:
January
A hacker exploited a vulnerability in a major European Tier-1 infotainment system that was deployed in an Asian OEM's vehicle. This was achieved by plugging in a USB device, then executing the exploitation to gain root shell access to the system.
February
An Asian OEM's American business arm experienced a ransomware attack by the DoppelPaymer gang, who demanded $20 million in exchange for a decryptor and not leaking stolen data.
May
Numerous vulnerabilities were discovered in a European Manufacturer's infotainment system, which could be exploited to take control of multiple in-cabin functions.
August
Hackers exposed multiple vulnerabilities in the operating system used by major agriculture OEMs, allowing black-hat actors to remotely manipulate machinery, even taking them out of service.
December
Researchers found vulnerabilities affecting devices or properties embedded in or used for connected cars, chargers, in-vehicle infotainment (IVI) systems, and digital remotes with car chargers were at risk, including vehicle-to-grid (V2G) systems in Europe.
Cyber Risks in Automotive
Identity Detection and Response for cars connected to MEC gateways
Modern connected vehicles can now be thought of as data centers on wheels. Notoriously, some cars now have more lines of code than aircrafts, giving the market a glimpse of just how sophisticated connected cars can be.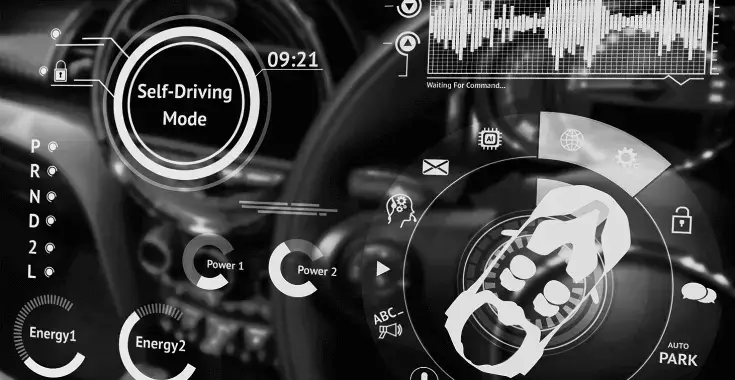 In a growing ecosystem of connected IoT devices to 5G MEC equipment, the need for protection, anomaly detection, and the prevention/blocking of threats such as scanning, brute force, crypto mining, DDoS, and more, is critical.
Points of connectivity deployed on the MEC Telco side that connected the fleets of vehicles together should be properly protected. AI EdgeLabs gives a full spectrum of network visibility, making it easy to spot intrusions immediately and deploy assertive remediation protocols to stop attackers from damaging connectivity points even when SSL/TLS protection is deployed or VPN connectivity is set up.
Vehicle to Everything (V2X) Protocols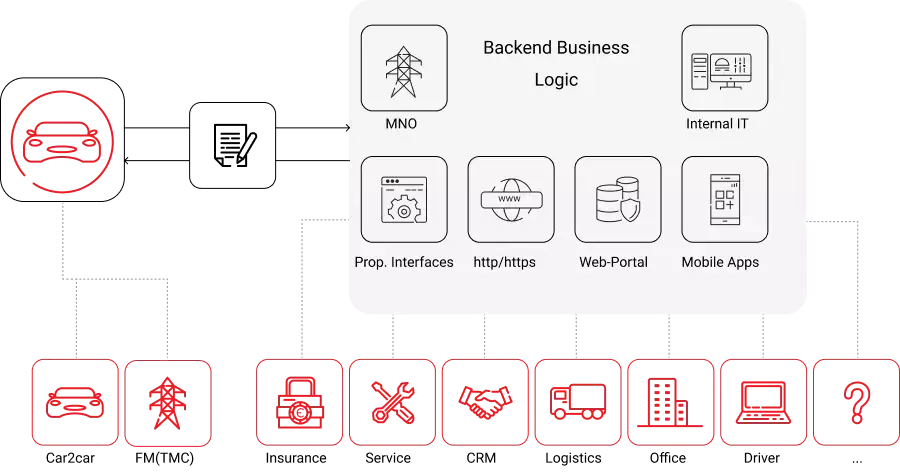 The V2X infrastructure is a fast-growing segment of the automotive industry and paints a perfect scenario for edge computing and 5G technology. Vehicles can now produce around 100 gigabytes of data in under 30 days, meaning that data bottlenecks in data transmission to servers can become more than a hassle.
Companies would need to heavily invest in high bandwidth communications and computing capacity to cope with such data-intensive needs along with AI-powered cyber security solutions to keep the data safe.
Infotainment Systems Intrusion Risk
Infotainment is now more intuitive and dynamic than ever for both the driver and the passenger for a superior user experience, with Edge computing helping unlock new capabilities like real-time personalization or recommendation systems for music and video, as well as minimize software update latency.
Simultaneously, the ability to tap into Edge-powered capabilities also puts connected vehicles at high risk of intrusion, especially as increased connectivity expands the attack surface through which hackers can access the vehicle's sophisticated infrastructures. Once inside, hackers can hijack a car to send commands from a remote location to steal private and corporate data, track individual vehicles or entire fleets, hijack non-safety and safety-critical functions, and more. These attacks can gravely endanger the lives of people who may end up without the ability to steer or break while speeding down a highway.
How AI EdgeLabs Can Strengthen Cybersecurity in Automotive
These innovations, built on the digitization of in-car systems, the extension of car IT systems into the back end, and the propagation of software, are increasing the concerns about the cybersecurity of modern vehicles. To excel at cybersecurity, there's a pressing need to re-engineer existing processes, adopt new skills and frameworks, and develop best practices along the automotive supply chain, requiring huge financial resources, deep cyber security expertise and consuming much time. Until you use a powerful and autonomous cybersecurity AI solution to respond immediately to ongoing attacks and protect your Edge/IoT critical infrastructure from malware, ransomware, DDoS, botnets, and other threats.
Possible deployment examples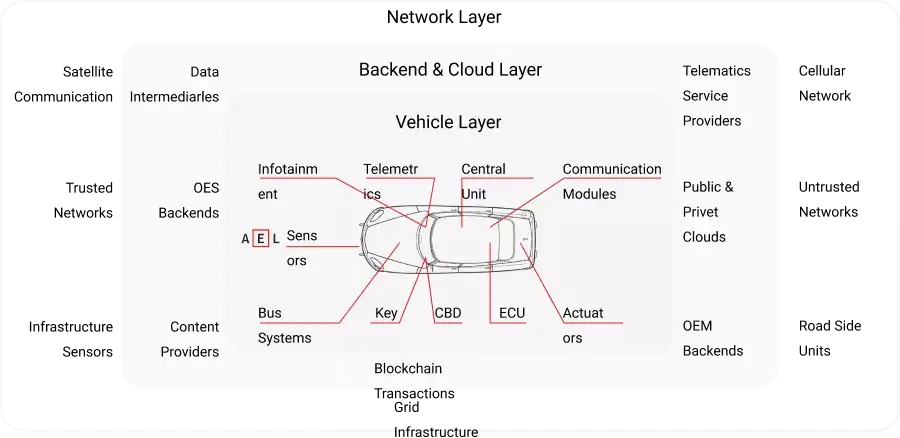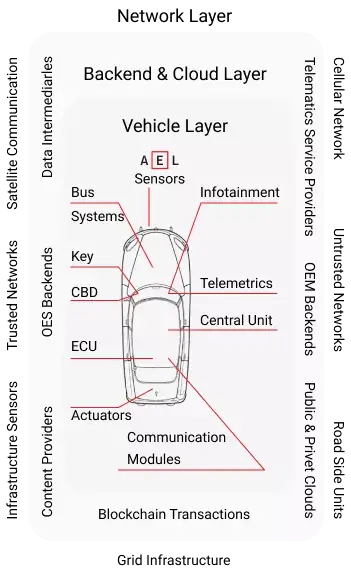 AI EdgeLabs Sensors can be added to the Backend/Cloud or Vehicle layer in order to provide network protection and IDR for the security operation team.
Automobiles are increasingly integrated with intelligent traffic systems which offer parameters for navigation systems, ACC Stop & Go, and Heading Control. The unauthorized use and exploitation of traffic servers or traffic lights can lead to accidents. The transportation industry has critical infrastructure that must be secured.
With increasing connectivity the vulnerability of cars increases too. Edge Labs AI can be deployed as a smart AI-based Firewalls to protect the car from unauthorized access.
AI EdgeLabs is an all-in-one AI-based platform that brings advanced network visibility, early threat detection, automated incident response and remediation vital for the newest technologies in automotive.
AI EdgeLabs
is a robust, enterprise-grade, and AI-based platform that brings advanced network visibility, early threat detection, and automated incident response and remediation vital for the automotive industry. Enriched with Deep Reinforcement Learning, our platform is smart and impressively accurate in detecting threats before they even have a chance to cause harm.