Edge Cybersecurity in Oil & Gas
In the oil and gas industry, cybersecurity has become a major concern. This critical industry is a prime target for cyber threats of all kinds, from data centers and networks to intrusion into OT systems.
As we know, bad actors are financially-driven to attack the global oil and gas industry as crude oil is one of the most sought-after commodities in the world today. The "
Oil and Gas Global Market Report 2022
" found that the global oil and gas market is expected to reach $6.81 billion in 2022 at a compound annual growth rate of 11.8%.
Back in May 2021, the Colonial Pipeline company was at the end of a
ransomware attack
that took down the largest fuel pipeline in the U.S., which led to massive fuel shortages in the East Coast as a result of a compromised password illegally acquired from a dark web leak.
The growing dependencies on technology and interconnectedness has opened the gates to cybersecurity threats like hydrocarbon installation terrorism, facility terrorism, undetected spills, production disruption, and more, which can lead to sabotage, a complete shut down of facilities, and skyhigh losses.
Edge Risk Use Cases in Oil & Gas
Control Systems
Ponemon's "
The State of Cybersecurity in the Oil & Gas Industry: United States
" survey revealed that 61% of respondents have an inadequate protection and security strategy for their industrial control systems. The oil and gas industry is subject to negligent or careless insider threats, underscoring the need for advanced monitoring and solutions to identify abnormal behavior in company traffic.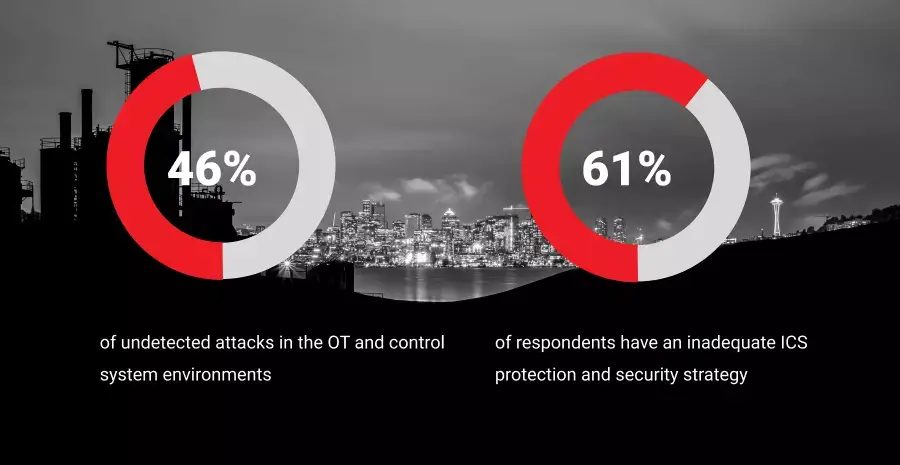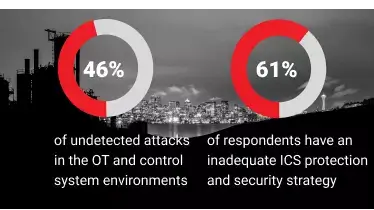 Organizations sometimes fail to continually monitor all infrastructure, with 46% of attacks in the OT and control system environments going undetected. Cyber attacks typically target critical infrastructure systems in an attempt to control or shut them down.
One of the biggest concerns for oil and gas companies is outdated and aging control systems in facilities that make an organization vulnerable. As most are unprepared to assertively address the challenges of threats and full-blown attacks.
Operational Technology and Loss of Data
Nowadays, most organizations are in early stages of their OT cybersecurity maturity, meaning that cybersecurity readiness is far from perfect and are not yet primed or deployed to respond to real threats.
Back in 2017, Ponemon's survey showed that over 68% of US oil and gas cyber managers claim their organization experienced at least one loss of confidential information or disruption to their operations in their operational technology environment.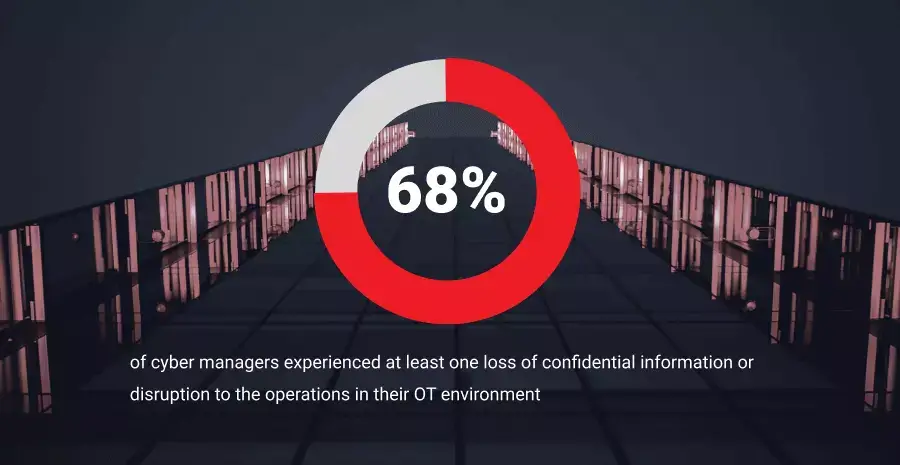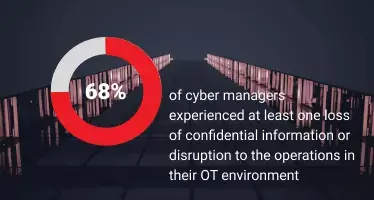 Hackers are becoming more interested in targeting OT to disrupt physically connected devices that support critical processes. The vulnerability and lack of knowledge in OT poses a significant danger as the number of connected devices only grows higher.
As oil and gas companies continue to benefit from digitalization, the cyber risk surface area becomes significantly larger. The same research paper from Ponemon found that 59% of respondents believed there is greater risk in operational technology than the IT environment while 67% believe the risk level to industrial control systems has increased because of cyber threats.
The survey also found that 68% of respondents experienced at least one cyber compromise, yet they lack awareness of the OT risk criticality or have no strategy to address it.
How AI EdgeLabs Can Strengthen Cybersecurity in Oil & Gas
The oil and gas industry is no stranger to cyber attacks. Typically, cyber attacks target critical infrastructure, debilitating the oil and gas ecosystem and prompting urgent solutions. Navigating said challenges can be daunting, especially with so many critical aspects at stake.
A prime example of deployment in the network infrastructure can be found in pump stations across pipelines. Every 20-50 kilometers, a pump station is located to help keep oil flow in motion. There can be dozens of pump stations across a country that are connected to a central control station. This system allows engineers to monitor all stations from a central control room via web access. The protection of publicly exposed equipment is essential to protect against threats and network attacks. AI EdgeLabs deploys software sensors to verify network bandwidth and protect against threats.
Possible deployment examples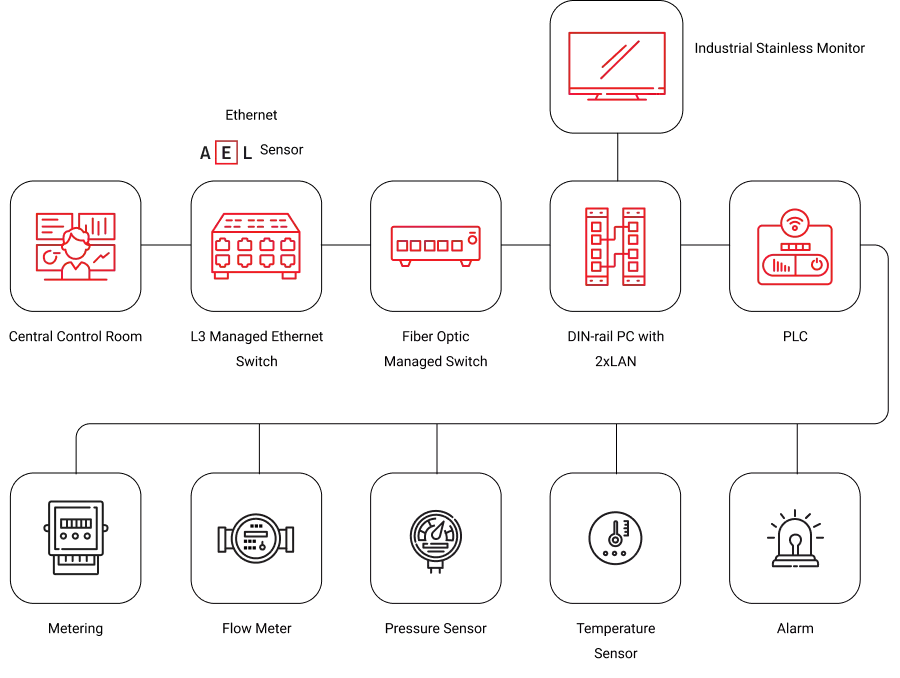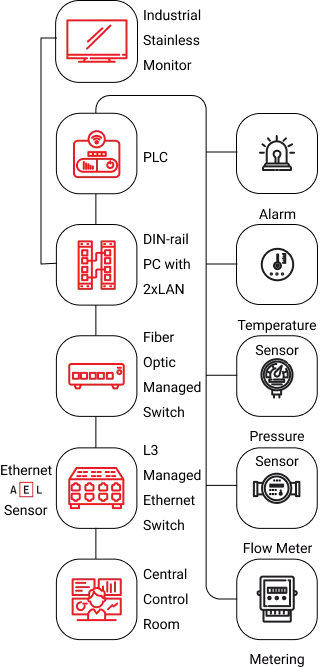 AI EdgeLabs sensors can be deployed on the Edge directly on the DIN-rail PC and provide network protection for threats that come from outside of the network. Deployment can provide a deployment option on the L3 Managed Ethernet Switch with gateway-based protection from DDoS, flooding, or brute-force attacks from the Internet.
Connectivity to the Programmable Logical Controller (PLC) is predictable in terms of modeling and at the same time it's very important to be able to spot anomalous behavior or hacking attempts. AI-based traffic modeling with AI Edge Labs offers the highest quality for hidden threat detection and provides remediation techniques on the fly.
All in all, AI EdgeLabs is a smart and powerful platform that mitigates cyber risks in a sector that is ongoingly experiencing a digital revolution and is now targeted for geopolitical purposes and financial gain. Thanks to a robust set of algorithms embedded with machine learning and deep reinforcement learning, AI EdgeLabs provides end-to-end network visibility, early threat detection, and concrete remediation actions to secure critical Edge and IoT infrastructures of the oil and gas sector.
AI EdgeLabs
is a robust, enterprise-grade, and AI-based platform that brings advanced network visibility, early threat detection, and automated incident response and remediation vital for the oil and gas industry. Enriched with Deep Reinforcement Learning, our platform is smart and impressively accurate in detecting threats before they even have a chance to cause harm.