Cybersecurity in Energy and Utilities
The new industrial revolution is changing the way energy and utilities companies operate. In parallel, the number of sophisticated cyberattacks against utilities and the energy business is increasing and the threat to operational technologies (OT) has undoubtedly grown. In fact, according to a recent survey by
Deloitte
found that the US energy industry is one of the top three most frequently attacked by cybercriminals.
As successful attacks on electricity infrastructure are becoming more severe, the aftermath results in forcing crucial product systems, particularly safety systems, to go down. The importance of energy and utility cybersecurity is all too frequently undervalued. However, a number of isolated occurrences in the last several months have brought this issue to the forefront.
Recent Attacks in the Industry
For example, one of these occurrences were put on display in May 2019 when a ransomware assault crippled
Baltimore
city computers for weeks and cost the city an estimated $18.2 million in damages, much in excess of the required ransom. A hacker attempted to poison the whole supply of water in
Oldsmar, Florida
, in August 2021. Hackers in the San Francisco Bay region attempted to poison a
water treatment plant
in January 2021, putting millions of people at risk. Hackers attempted to steal public water supplies in
rural Kansas
by gaining access to the system through unauthorized and malicious means.
The red flags are there for cybersecurity in energy and utilities companies. Very much so that Siemens and the Ponemon Institute conducted
a study "Caught in the Crosshairs: Are Utilities Keeping Up with the Industrial Cyber Threat?"
of 1,726 utility personnel worldwide who are responsible for securing or supervising cyber risk in Operational Technology (OT) settings for enterprises in gas, solar, wind, and water utilities. 25% of respondents said they have been impacted by mega-attacks involving skills established by nation-state actors.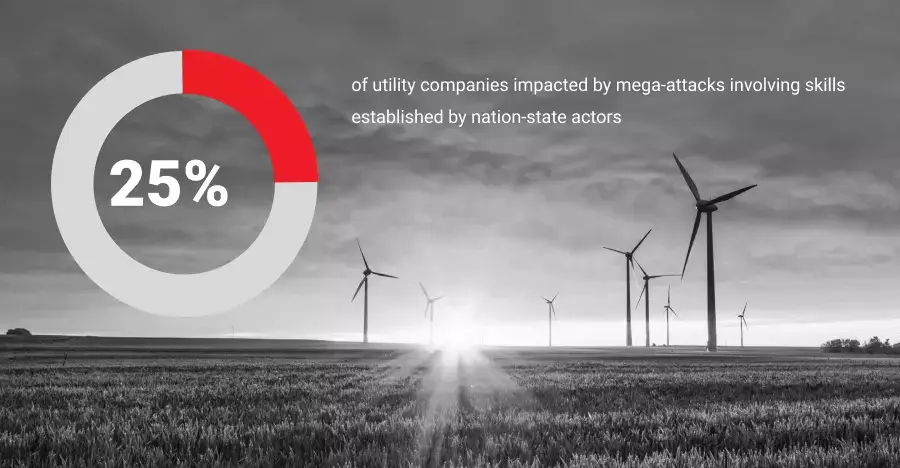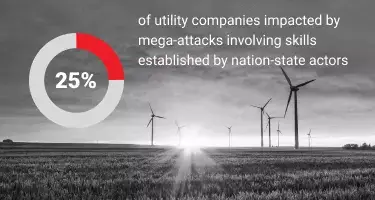 The same study also revealed gaps in cybersecurity preparedness and capabilities in the energy and utilities sector, with some of the biggest threat vectors found in grid-connected assets, operational technology, gaps in digitization, and control technologies.
Cyber Challenges in Energy and Utilities
Multi-stage and nation-state attacks
In multi-stage attacks like the
Colonial Pipeline breach
, credentials are stolen to get to valuable data, and then ransomware is used to hold the data for ransom. This causes a lot of money to be lost and makes cybersecurity for energy and utilities many times more important.
Additionally, those in the energy industry are more vulnerable to ransomware assaults from criminals or nation-state threat actors since attacks of this nature can have significant consequences for the industry, and the subsequent remediation is often more costly. An energy supplier or bulk-power-system failure might have disastrous implications for the population, not to mention severe reputational and regulatory risks for the energy provider.
Insecure industrial control systems
Attacks on industrial control systems (ICS) are blurring the lines between cyber and physical attacks. Hackers are increasingly attacking industrial control systems, which might lead to physical grid damage. As such, ICS attacks are becoming a bigger threat to national security and public safety.
Attackers used to target utilities' IT systems in order to steal data or launch ransomware for financial gain, but this is no longer the case.
Reports
have surfaced of hackers linked to nation-state and organized crime trying to hack utility ICS systems in an effort to study how the systems operate and position themselves to potentially disrupt or destroy important physical assets such as power plants and substations.
Another challenge is the fact that threat actors get in by taking advantage of weak spots in trusted relationships with third parties. This makes the target company more at risk and makes the strike zone bigger.
Complex identity and access management systems
Organizations in the energy sector face hefty fines if access governance mistakes or delays are discovered during audits, which makes managing credentials and access all the more critical for them. However, it might be difficult to comply with requirements if ineffective communication is caused by fragmented HR and IT systems and problems in integration.
With Zero Trust in mind, energy firms need to implement rigorous identity and access management (IAM) procedures to ensure the security of both traditional networks and cloud-based systems. Through the integration of people, process, and technology, IAM makes it possible for the appropriate people to have access to the right resources at the right time for the right purposes.
How AI EdgeLabs Can Strengthen Cybersecurity in Energy and Utilities
It's imperative for energy and utilities organizations to enhance cyber-defenses by increasing awareness of all system components and their functioning, as well as by training or employing skilled staff. Other aspects include compensating for systemic complexity through improved collaboration between IT and OT, as well as being informed of new technological and cybersecurity advancements. These techniques will help improve detection and response capabilities, including proactive contingency planning and recovery prioritizing.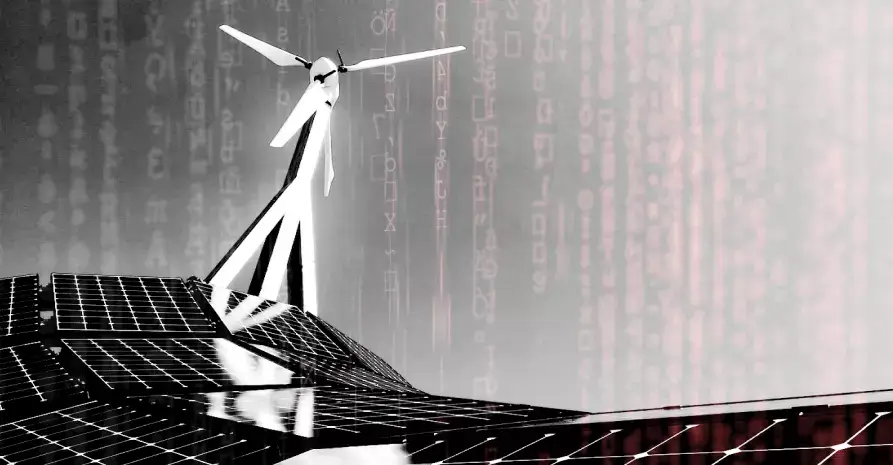 Secure your network by visualizing every component
Cybersecurity for energy and utility power plants has to deal with a complex web of risks. Every link in the supply chain needs to be protected, because parts from different parties may have flaws that can be used to break into systems.
AI EdgeLabs delivers advanced network visibility that drives detection at scale with low noise-to-signal ratio for lateral movement attacks. The platform also selects the next best steps for threats for easy mitigation and remediation of vulnerabilities. The central dashboard offers attack surface visibility and network topology signaling both abnormal behavior and alerts.
Evaluate cyber threats at every Edge and IoT/OT layer
Effective energy cybersecurity protects, educates, and figures out how dangerous risks can be. Employees and trusted vendors are often attacked because they are some of a company's most valuable assets. Training is important to give them the skills they need to stop attacks. Processes that link trusted companies together must be checked for flaws that could let credentials and systems be seen by the wrong people.
AI EdgeLabs offers early threat detection with threat monitoring based on the latest behavior-based analytics to evaluate cyber risks at every layer of the Edge and IoT infrastructure with 99% accuracy.
Thanks to Reinforcement Learning algorithms and threat modeling, AI EdgeLabs performs rich traffic inspection of anomalous patterns and alerts security teams of threat levels with severity-based prioritization. The platform's in-depth alerts include context of adversary tactics, techniques, and procedures (TTPs).
Employ cybersecurity monitoring tools
Energy cybersecurity needs a monitoring system that works around the clock and sends out alerts when problems or incidents happen. When a problem is found early, it can have less of an effect on the system and on finances. It can also be fixed more quickly.
Thanks to constant monitoring, energy organizations can find and stop data breaches in a matter of seconds. AI EdgeLabs delivers 24/7/365 monitoring of your network as the relentless attacks of hackers don't usually come in during regular business hours, and their attacks come from all over the world.
AI EdgeLabs provides real-time, non-stop, automated monitoring of an organization's information security systems (SIEM), security operations center (SOC), and network operations center (NOC). Thanks to its number of integrations, AI EdgeLabs offers alerting systems embedded with Jira, Slack, Discord, and more.
Reinforce your IoT/OT security protocols
In the energy and utilities sector, cybersecurity is where IT and OT meet, so prevention must include both functions. Keep high-risk business processes separate from normal business processes. Upgrade IT systems, keep an eye on security patches, and build redundant systems to help with recovery.
AI EdgeLabs helps energy and utilities companies all over the world with accurate IoT/OT risk management and strong cybersecurity. The AI EdgeLabs cybersecurity monitoring solution gives high-level views of operational control networks, IT, IoT, and cloud assets to find cyber threats and disruptions in real-time. AI EdgeLabs performs scope mapping of MITRE ATT&CK to give clients robust security audit reports and posture based on assets with clear recommendations on how to solve specific IoT/OT and Edge security issues.
The EdgeLabs AI Sensor provides early and advanced malware detection to prevent malfunction, misuse, and damage of entire systems. The lightweight EdgeLabs AI Sensor deployed on-premises can cope with unstable connectivity or offline operations, providing asset visibility and discovery in OT/IT environments as well as advanced malware detection in its early stages and with up to 99% accuracy.
AI EdgeLabs
is a robust, enterprise-grade, and AI-based platform that brings advanced network visibility, early threat detection, and automated incident response and remediation vital for the energy and utilities industry. Enriched with Deep Reinforcement Learning, our platform is smart and impressively accurate in detecting threats before they even have a chance to cause harm.